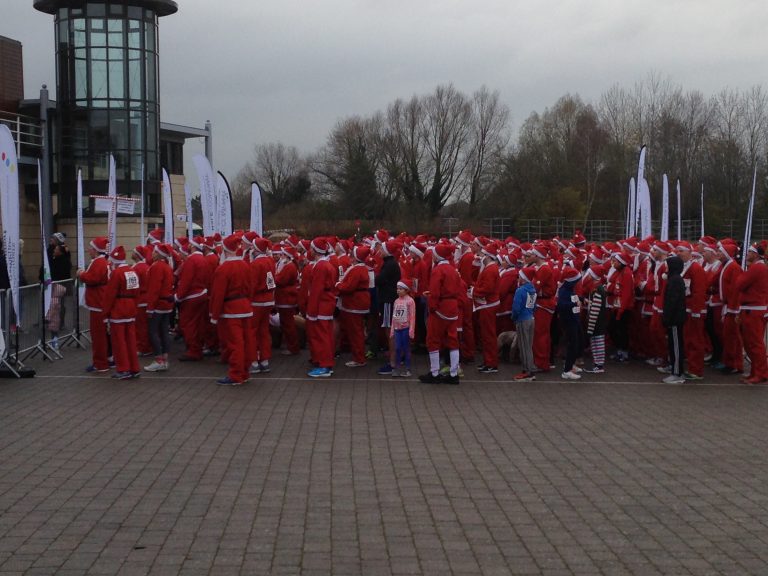 Santa Fun Run – Outdoor PA Sound System & Christmas Music… One crisp Sunday morning in late November, we heard a whisper that many hundreds of Santas were to descend upon Eton College Rowing Centre's Dorney Lake complex. So we came early, we came prepared… with our control van, Christmas music, d&b audiotechnik loudspeakers and dry sunny weather…
By mid-morning the whole concourse was transformed into a sea of red & white, ready to warm-up to Christmas sounds, with a fitness trainer in advance of the run. We positioned three winch stands each supporting two d&b audiotechnik E8 loudspeakers, to ensure everyone could hear the music and announcements, loud & clear.
The event was made perfect by being opened by a very special guest and all proceeds going to a most worthwhile charity – Alzheimers Dementia Support.
This Santa Fun Run has become a regular annual booking for eventpahire and it is always great to see so many Santas of all ages, raising money for ADS.
If you are organising a Santa Fun Run, or other festive event and would like a high quality sound system for speech and Christmas music, then get in touch today and see what we can do for you. Don't worry if there's no mains power at your event location, as we can supply a generator with the Santa Fun Run PA system. Merry Christmas!