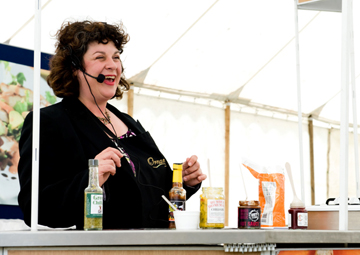 Chilli Fiesta PA System – we were commissioned to provide two separate PA systems for the Bedfordshire Chilli Fiesta at Old Warden Park. The Fathers Day event included a programme of demonstrations and presentations throughout the day in the main marquee, where we deployed a d&b audiotechnik E-series PA system, with headset microphones for the presenters.
In the grounds, there were many stalls and family fun activities going on, including performances by a Youth Choir and a local band.   We also deployed an outdoor PA system across the grounds for general announcements, performers and background music.
The PA systems were linked together to enable background music from the outdoor system to be piped through to the marquee, in between demonstrations. The afternoon culminated in a Chilli Eating Contest, amongst much support from the crowded marquee.
A very hot summer afternoon, even hotter chillis (judging by the facial expressions during the contest), fantastic attendance and a great family day out was had by all… with the Chilli Fiesta PA system ensuring that everyone could hear everything – loud and clear!
Whatever your requirements – indoor, outdoor or marquee PA systems – please get in touch today and see what we can do for you. Don't worry if there's no mains power at your event location, as we can supply a generator with our PA system.